An amazing day in Alentejo
Don't miss the opportunity to visit Badoca Safari Park and discover all our activities and attractions for a great day with family, friends or on an adventurous date! If you've already visited, come back to explore all the news! Our main goal is to promote contact with nature and various wild species in their natural habitat. Along with the Safari, you'll be able to learn and have lots of fun through outdoor walks, shows and interactions with some of our animals!
The entry price includes:
Safari: to enjoy the immensity of its landscape on a tractor while watching and learning about different wild species in their natural habitats such as giraffes, zebras, elands, wildebeests, ostriches, buffalos, and many more; (Read more)
Birds of Prey Presentation: to meet the majestic eagles and hawks while they fly free and show ways to hunt their prey; (Read more)
Interaction with the Lemurs: to know more about the friendliest primates in Madagascar!
Primate Island: to have fun watching our primates (chimpanzees, sacred baboons, mandrels, and more) and discover their incredible similarities to humans; (Read more)
Outdoor Walk: to visit our small farm with domestic animals, and also explore the Tropical and African forests to see meerkats, kangaroos, phaco, and more;
Reptiles Presentation: our latest novelty!
Duration of the safari: 45 minutes.
Sessions and times: Times may vary according to the number of visitants on a given day. Upon arrival at the ticket office, our staff will help you make your visit plan to ensure that you enjoy all the activities you want, including the safari.
[wpt-shop table_class='table-products' product_cat_ids='179′ short='asc']
Animals you can see on Safari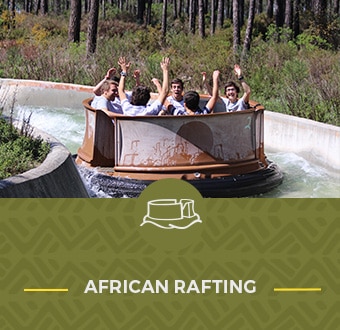 Embrace adventure in the tumultuous waters of African Rafting. Immersed in a variety of African settings andsurrounded by the animals that…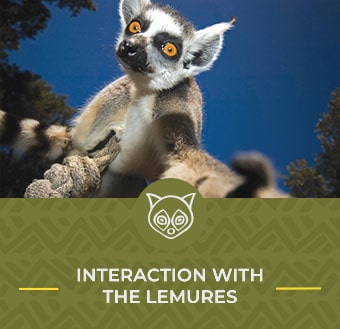 On the Island of Madagascar interact with these small primates threatened with extinction. In the lush scenery of the Island of Madagascar you…
VIP Experiences
Offer an unforgettable experience